Orange County Wrongful Death Attorney
If you've recently suffered the death of a close family member in an Orange County, California accident, call Bridgford, Gleason & Artinian. Whoever caused your loved one's death may be legally and financially accountable for your tragic loss. Our experienced Orange County wrongful death lawyers can help you work toward a meaningful financial recovery.
For more than 30 years, Bridgford, Gleason & Artinian has been a source of strength and support for grieving families in Orange County. With more than 75 years of courtroom and litigation experience between us, we've led our clients to over $1 billion in life-changing financial awards.
Money won't turn back time or bring your family member back to you. But it can provide a sense of justice and offset the financial burden you may experience for years to come. Let our award-winning California trial attorneys help get the financial accountability you deserve. Your first consultation is free, so call our Orange County law office for help today.
Why Do Clients Choose Us?
We have a reputation for always putting our clients first. During your wrongful death claim, we will make sure your family has all the answers, guidance and counsel it needs to get through this difficult time.

Our record of success in and out of the courtroom enables us to achieve better results for our clients. Adversaries such as insurance companies know we have what it takes to go to trial on behalf of our clients, if necessary.
We do not charge any fees unless we win. You will only pay our Orange County wrongful death lawyers if we succeed in securing financial compensation for your case – and then, out of the settlement or judgment award collected.
How Can a Wrongful Death Lawyer Help You?
A wrongful death attorney in Orange County can play a critical role in helping your family seek justice and financial compensation for the loss of a loved one's life due to someone else's wrongful acts. 
An attorney will have years of practice-area experience and knowledge to litigate your claim. This can allow your lawyer to successfully build your case and fight for the results that your family deserves.
At Bridgford, Gleason & Artinian, our team of trial attorneys can help by providing the following services:
Investigate your loved one's fatal incident to determine exactly what happened.

Preserve, collect and evaluate the evidence available to support your claim.

Develop the strongest possible wrongful death case using our resources, such as hiring experts.

Determine how much your family is owed for the loss of a loved one's life.

Handle confusing claims paperwork and filing processes for you.

Go up against an insurance claims adjuster to negotiate a fair settlement for you.

Take your wrongful death case to trial in Orange County for maximum compensation, if necessary.
For more than 30 years, we have provided unparalleled legal representation for individuals and families across California. You can trust us to relentlessly fight on your family's behalf during a wrongful death claim. 
We will give your deceased loved one a voice in the civil justice system with proven and aggressive legal strategies. Most importantly, we will prioritize your family's well-being throughout the legal process.
Understanding Wrongful Death in California
California Code of Civil Procedure 377.60 defines wrongful death as the "death of a person caused by the wrongful act or neglect of another."
In other words, wrongful death occurs when a person is killed because of another person's negligent, intentionally harmful, or criminal actions.
Some leading causes of wrongful death in Orange County include:
Boating accidents
Workplace accidents
Fall accidents
Accidents involving defective products
Medical malpractice
Criminal action or intent to harm does not need to exist to file a wrongful death claim in California. It is enough to show that someone was careless or negligent, meaning he or she fell short of the required degree of care, and caused your loved one's death.
Who Can File a Wrongful Death Claim in California?
Just because a victim dies in an Orange County accident doesn't mean the right to take legal action is lost. Under California law, the right to legal action shifts to the victim's surviving family members.
However, not just anyone can file a wrongful death claim.
That right is reserved for the victim's:
Surviving spouse
Domestic partner
Child(ren)
Grandchild(ren)
Parent(s)
Guardian(s)
Family members who were dependent on the victim – including stepchildren and putative spouses – can also be eligible to bring a claim in certain situations.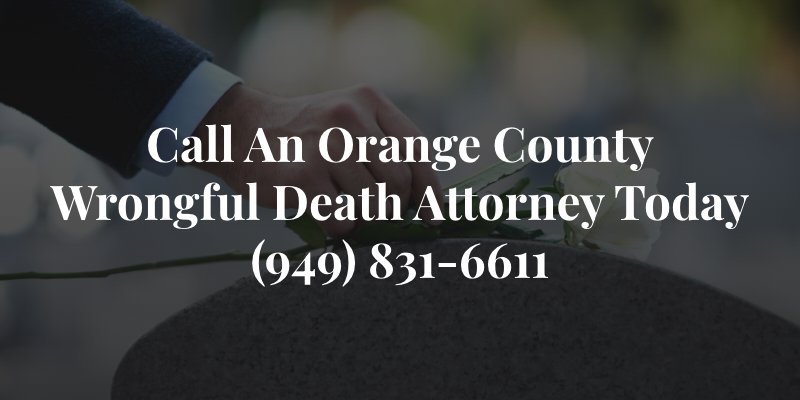 Any minor who lived in the decedent's household for at least 180 days prior to death and was dependent on the decedent for at least 50 percent of financial support can file. In addition, anyone entitled to the decedent's property through the laws of intestate succession can file.
Proving Negligence in a Wrongful Death Claim
Many wrongful death cases that are filed in California are based on the doctrine of negligence. The legal definition of negligence is the failure to take proper care in doing something. An individual has a duty to exercise the amount of care that a reasonable and prudent person would under the same or similar circumstances. 
Proving negligence consists of four elements:
Duty of care:

a requirement to act toward others with a reasonable degree of caution, prudence, attention and care.

Breach of duty:

any act or omission that does not align with the defendant's duty of care toward the plaintiff at the time of the incident.

Causation:

proof that the defendant's breach of duty was the main or proximate cause of the plaintiff's fatal injury or illness.

Damages:

specific losses suffered by the deceased person's surviving loved ones, such as funeral expenses and lost income.
Establishing negligence or fault in a wrongful death claim requires evidence, which may include police reports, accident reports, medical records, a coroner's examination, eyewitness statements, expert testimony, photographs and video footage.
A wrongful death lawyer from Bridgford, Gleason & Artinian can investigate and collect evidence to support your case.
What Is the Burden of Proof in a Wrongful Death Claim?
In the civil justice system, the filing party or plaintiff has the burden of proving the claim that is being made. In a negligence-based wrongful death case, the plaintiff or plaintiff's attorney must prove that the defendant was negligent and that this was more likely than not the cause of the decedent's death.
This burden of proof is known as a "preponderance of the evidence." It requires proof of fault with at least a 51 percent certainty. This is less than the burden of "proof beyond a reasonable doubt," which is placed on the prosecutor in a criminal case.  
The lesser burden of proof is why a defendant could be found not guilty of criminal charges associated with a death yet still be held legally responsible for the loss of life in a wrongful death claim in California.
What Types of Damages Can I Get in an Orange County Wrongful Death Claim?
The purpose of a wrongful death claim is to compensate surviving family members for the suffering and losses they personally experience after a loved one's death.
In California, plaintiffs in a wrongful death lawsuit can recover both economic and non-economic damages.
Economic damages are awarded to offset the financial losses associated with the victim's tragic death, including:
Loss of financial support, including wages, income, and benefits
Loss of gifts or benefits
Funeral and burial expenses
Value of household services
Non-economic damages are awarded to make up for the hard-to-value suffering and trauma family members experience as a result of their loss, including:
Loss of love, companionship, comfort, care, assistance, protection, affection, society, and moral support
Loss of enjoyment of sexual relations with a spouse
Loss of a parent's training and guidance
In certain situations, punitive damages may also be appropriate. When a wrongful death action goes to trial, a jury must find clear and convincing evidence that the defendant acted maliciously, intentionally, or displayed a conscious disregard for the victim's safety. Punitive damages might be awarded in fatal car accident cases where the driver was extremely drunk, or if a victim was intentionally killed.
Our experienced Orange County personal injury lawyers will work hard to recover the maximum benefits available to your family under California state wrongful death law.
Death Benefits and Workers' Compensation
If you lost a loved one in a fatal workplace accident in California, your family may qualify for death benefits through the workers' compensation system. These benefits can be paid to the dependents of the deceased person and will typically be enough to cover burial expenses as well as partial lost wages. 
The maximum amounts available are $10,000 in reasonable burial costs and up to $320,000 in other benefits. Before you accept a workers' comp settlement, however, find out if your family is receiving a fair amount by contacting an attorney.
How Are Wrongful Death Damages Distributed in California?
A wrongful death claim is unique in that the injured individual is no longer alive to receive any financial damages obtained with a cause of action. Instead, these actions are brought on behalf of surviving beneficiaries or the decedent's estate.
If a case results in a financial settlement or judgment award, a distribution method will be reached and agreed upon by all parties who are entitled to recover. This includes surviving family members and beneficiaries who were financially dependent on the decedent.
Common distribution arrangements are dividing the financial award equally among all eligible parties or providing a larger percentage to the surviving spouse and children and distributing what is left to other heirs. An attorney can help you divide a wrongful death settlement or jury verdict appropriately based on your family's needs.
Is Wrongful Death Compensation Taxable?
For the most part, wrongful death settlements and judgment awards in California are not taxable. The recipient(s) will not have to list compensation obtained through a wrongful death claim as income for federal or state tax purposes. However, there are exceptions to the rule.
If you receive punitive damages for the death of a loved one, this type of award will most likely be taxed. This is because it is not considered compensatory damages, which compensate victims for losses they have incurred. 
Although punitive damages are not available in a wrongful death claim in California, they can be awarded as part of a survival action, when warranted. This is a different type of lawsuit that could be combined with a wrongful death claim or brought as a separate lawsuit.
What's a Survival Action?
In California, survival actions can also be raised after fatal accidents. The purpose of a survival action is to compensate the victim's estate for the pain, suffering, and losses the victim personally experienced before they died.
This can include money for lost wages, medical expenses, rehabilitation, property damage, pain and suffering, and emotional distress.
Survival actions can only be brought by an estate when a victim survives his or her injuries for a period of time before dying.
Any damages awarded in a survival action go to the victim's estate and are distributed to beneficiaries pursuant to the will or California estate law.
How Much Is the Average Wrongful Death Settlement?
Wrongful death settlements and verdicts can vary significantly in terms of value. There is no such thing as an "average" amount or a one-size-fits-all approach to calculating wrongful death settlements, as each case is 100 percent unique. Instead, values are carefully determined based on the specific facts of each case.
Factors that may affect the value of your claim include:
Your loved one's age at the time of death

The decedent's wages prior to death

The pain and suffering of surviving loved ones

The actions of the defendant

The number of defendants

The amount of insurance coverage available

Any applicable damage caps
Do not trust the value that an insurance company places on your wrongful death claim. Insurers are committed to saving themselves as much money as possible. Instead, consult with an attorney at Bridgford, Gleason & Artinian who can estimate the potential value of your case after an in-depth analysis.
Does California Have Any Damage Caps on Wrongful Death Claims?
Most personal injury and wrongful death cases in California are not subject to damage caps – statutory limits on the amount of financial compensation that can be awarded to a victim. The only damage cap that exists is for noneconomic damages in medical malpractice claims.
Effective January 1, 2023, a new bill signed by Governor Newsom increases the existing damage cap on wrongful death claims caused by medical malpractice from $250,000 to $500,000. This will continue increasing over the next 10 years until reaching a final cap of $1 million. 
The new bill also allows damages involving multiple entities to be "stacked," meaning the cap will be $500,000 for each defendant. In this case, the total cap could increase to $1.5 million under special circumstances.
How Can Shared Fault Affect a California Wrongful Death Claim?
When you contribute to an accident, it can affect your ability to recover compensation. Under California's pure comparative negligence system, damages are reduced in proportion to fault.
This also applies to wrongful death claims.
If your family member contributed to their fatal accident, it will reduce the amount of compensation that can be awarded in a related wrongful death case.
Your family member isn't around to defend themselves or tell their side of the story. Bridgford, Gleason & Artinian will be. Our Orange County wrongful death attorneys will work hard to limit victim-blaming tactics, protect their good name, and protect your ability to get the money you deserve.
What's the Statute of Limitations For Wrongful Death Lawsuits in California?
You'll have a limited time to file a wrongful death lawsuit after a fatal accident in Orange County, California.
The statute of limitations is just two years. The clock begins the run on the date of your loved one's death, which may or may not be the same date as their accident.
You do not want to allow the statute of limitations to expire. Once that happens, you'll lose the opportunity to file a claim and demand financial justice from those responsible for your tragic loss.
Don't let too much time go by before calling our wrongful death attorneys in Orange County for help. We're here to answer your call 24 hours a day, 7 days a week.
Proudly Serving Orange County and Southern California
Santa Ana | Anaheim | Irvine | Huntington Beach | Garden Grove | Orange | Fullerton | Costa Mesa | Mission Viejo | Newport Beach | Laguna Niguel | San Clemente | Lake Forest | Buena Park | Tustin | Westminster | Yorba Linda | Aliso Viejo | Rancho Santa Margarita | Fountain Valley | Cypress | La Habra | Brea | Seal Beach | Laguna Beach | Dana Point | Placentia | San Juan Capistrano | Stanton | Laguna Hills
Contact Our Experienced Orange County Wrongful Death Lawyers For Help Today
You need time to grieve and figure out how to move forward after your devastating loss. Let Bridgford, Gleason & Artinian take on the burden of litigation and fight to get your family the compensation you need and deserve during this difficult season of your life.
Our Orange County personal injury and wrongful death lawyers are experienced, successful litigators with a proven ability to take on powerful corporations and win big for clients like you.
Call our law office in Orange County to arrange a time to discuss the details of your wrongful death case today. Your first consultation is free.
---
Client Testimonial: 5/5
★ ★ ★ ★ ★
"I felt that you were fighting for me, counseling me, supporting me and allowing me to make the best decision based on the information you and the mediator provided throughout the day. There was not one instance where I felt pressure to make a decision. The team was outstanding." – Plaintiff
For more client testimonials, click here.