Orange County Car Accident Attorney
Have you suffered injuries or lost a close family member in an Orange County, California car accident? Call Bridgford, Gleason & Artinian. You may have the right to pursue compensation for costs related to your medical care, loss of income, and the mental anguish you've experienced. Our award-winning Orange County car accident lawyers can help you stand up and demand every cent you deserve.
Since 1990, our top-rated California litigators have been tireless advocates for Orange County crash victims. We have a proven track record of taking on powerful insurance companies and helping our clients achieve life-changing results. Through hard work and dedication, our law firm has successfully obtained over $1 billion in benefits, settlements, and jury awards.
Put yourself in the best possible position to win your car accident injury claim. Call Bridgford, Gleason & Artinian and set up a free, no-obligation case assessment to get started today. We're here to take your call at our Orange County law office in Newport Beach 24 hours a day.
Orange County Car Accident Resources and FAQs
We Handle All Types of Car Accidents in Orange County, CA
After a car accident, there's a good chance that you're going to have to deal with an insurance company (or two). These companies aren't on your side and won't have your best interests at heart. They handle thousands of car accident claims, which gives them an advantage from the start.
That's where our Orange County personal injury lawyers can help. Collectively, our team has 75+ years of courtroom and litigation experience.
We've handled thousands of car accident disputes, representing clients who have suffered injuries in:
Front-end collisions
Rear-end collisions
Rollovers
Sideswipes
T-bone car accidents
Hit-and-run car accidents
Drunk driving car accidents
Speeding car accidents
Distracted driving car accidents
Single-vehicle car accidents
Chain-reaction collisions
Accidents involving uninsured motorists
Intersection car accidents
We understand how each of these types of wrecks is different and distinct. Depending on what type of accident you were hurt in, our team knows which investigation strategies can be most useful, which experts can provide the best insight and the best practices for building a successful claim on your behalf.
Notable Case Results
$57 Million | Wrongful Death Settlement
$5 Million | Personal Injury Settlement
$2.5 Million | Wrongful Death Settlement
View more case results and settlements here.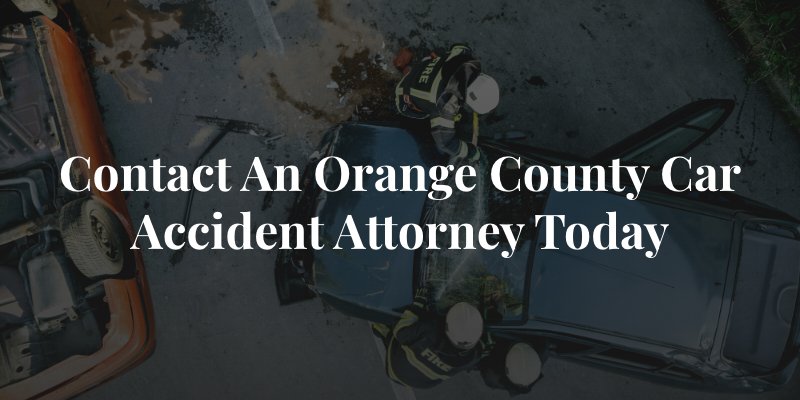 Orange County, CA Car Accident Statistics
Home to more than 3.2 million people, Orange County is the third-largest county in California. Every year, its population swells thanks to its booming tourism industry. With so many people in such a concentrated area, it's no surprise that traffic accidents are an everyday occurrence in Orange County.
According to the latest crash data, there were 12,432 car accidents reported in Orange County, CA in 2022.
That's roughly 34 crashes a day, or an accident every 1.4 hours.
As a result of these 2022 wrecks, 17,335 people were injured, while another 150 were killed.
Occupants of passenger vehicles aren't the only ones impacted by Orange County car accidents. In 2022, 970 accidents involved bicyclists, 835 accidents involved motorcyclists, and 756 collisions involved pedestrians.
What Are the Top Causes of Car Accidents in Orange County?
Car accidents are almost always preventable. They occur when someone is negligent or fails to use the required amount of care, such as a driver who is careless behind the wheel. Identifying the cause of your car accident is necessary in California, as the insurance system is fault-based. This means your lawyer must establish and prove fault to recover compensation from the other driver's insurance carrier.
The top causes of motor vehicle accidents in Orange County include:
Distracted driving

Texting and driving

Speeding 

Driving under the influence

Running red lights

Unsafe turns or passing

Unsafe lane changes

Following too closely

Reckless or aggressive driving

Violating roadway rules

Vehicle defects or malfunctions

Dangerous roads
If another driver caused your crash, his or her insurer may be required to pay for your medical bills and other damages. All drivers in California legally must carry certain amounts of liability insurance to cover these costs. If your crash was caused by a defective vehicle part, however, you may have grounds for a product liability claim against the manufacturer. On the other hand, a car accident caused by a road defect such as a pothole could lead to government liability in Orange County for failing to maintain a safe road.
Common Car Accident Injuries
Motor vehicle accidents send millions of victims to the hospital each year with life-changing injuries. When a vehicle (and its occupants) are moving at a high velocity, an abrupt stop such as a collision can send strong gravitational forces into the cab of the car and cause significant damage. The human body cannot withstand the forces exerted upon it in a car accident. Resultant injuries can include:
Amputations

Back and neck injuries

Bone fractures

Burn injuries

Catastrophic injuries

Emotional damage

Internal injuries

Lacerations

Muscle sprains and strains

Paralysis

Soft-tissue injuries

Spinal cord injuries

Traumatic brain injuries

Whiplash

Wrongful death
A victim's life may never be the same after a disastrous car accident in Orange County. At Bridgford, Gleason & Artinian, we have the resources, knowledge and experience to represent clients with all types of injuries. This includes both physical or bodily injuries and emotional injuries, such as post-traumatic stress disorder (PTSD). We can help you no matter what type of injury you or a loved one has suffered.
Is California a No-Fault State?
No, California is not a no-fault state. It uses a tort-based or fault-based rule to determine liability for a car accident. This means the party most at fault for causing the car accident will be responsible for paying for the losses suffered by a victim. This includes medical bills and property damage repairs. Under California's insurance laws, the following types and amounts of coverage are required for all drivers:
$15,000 for bodily injury or death per person

$30,000 for bodily injury or death per accident

$5,000 for property damage coverage
If you get involved in a car accident in Orange County, you or your lawyer will need to prove that the other driver is at fault to qualify for compensation from his or her insurance provider. In a no-fault state, proving fault is not required. Drivers in no-fault states file claims with their own providers, regardless of fault. Your lawyer can help you gather and preserve key evidence to establish fault during a car accident case in California, such as cellphone records or surveillance footage.
Proving Fault for a Car Accident
When an injured victim files a car accident claim, he or she bears the burden of proof. In the civil justice system, the burden is a preponderance of the evidence. This means the victim or victim's attorney must demonstrate that the defendant's negligence is more likely to be true than not true. While this is less than the burden of "proof of beyond a reasonable doubt" in a criminal case, it can still be difficult to prove negligence without help from a lawyer. 
Your attorney can search for evidence to establish the four elements of negligence:
The defendant

owed you a duty of care

, meaning an obligation to exercise reasonable care.

The defendant

breached the duty of care

owed to you with a careless act or omission.

The defendant's acts

caused your car accident

or was a significant contributing factor.

You

suffered damages or losses

as a result of the car accident.
At Bridgford, Gleason & Artinian, we can investigate your car accident case to search for evidence of negligence. Potential evidence may include photographs, videos, witness statements, expert testimony, medical records, a police report or cellphone records. We have decades of experience proving car accident cases both inside and outside of court.
How Much Is My Orange County Car Accident Case Worth?
This is a tough question to answer without knowing the specific facts and circumstances of your case. After all, every car accident – and every car accident victim – is unique.
However, there are several important factors that can impact the value of your car accident injury claim. These include:
The types of car accident injuries you suffered
Whether your injuries are classified as catastrophic
Whether or not you are able to continue working
If the injuries impacted your earning capacity
The steps you took to mitigate the impact of your injuries
If your own negligence contributed to the accident
The types of insurance benefits that are available and their respective policy limits
How the accident changed your life and if it will continue to change it
There are two primary purposes of a car accident injury claim: to offset the financial costs of your crash and to compensate for the suffering you endure. So, cases involving catastrophic injuries and substantial life changes tend to be worth the most.
However, never underestimate what your car accident case might be worth – especially with the right attorney by your side. At Bridgford, Gleason & Artinian, we've helped clients recover individual results worth millions. You can benefit from our proven results and top-tier representation by calling our Orange County law office for help today.
Steps to Take After a Car Accident
After a car accident, there are certain steps you should take to protect yourself – both physically and financially. A car insurance company will look for reasons to deny your claim, such as delaying medical care or admitting fault. Here's what to do after a car crash, if possible:
Stop at the scene of the car accident and call 911.

Reporting a car crash in Orange County can result in a police report that can be used during your insurance claim.

Check yourself and others for injuries

. If anyone has been harmed, request paramedics immediately.

Get medical care. If you do not call for an ambulance, go to a hospital right away. Waiting to see a doctor can be a red flag for an insurance company while processing your claim.
Exchange information. Write down the other driver's name, vehicle description, license plate numbers, phone number and insurance information.
Do not admit fault. Never admit fault for a car accident. Be polite to the other driver, but don't apologize or admit to having caused the collision.
Take photographs. While you are still at the scene of the car accident, take pictures and look for video cameras that might have caught the crash on tape.
Gather evidence. Once the police report has been filed, request a copy for your records. Obtain medical documents, vehicle repair estimates and other forms of evidence, as well.
File a claim. Call the other driver's car insurance company to file a claim. Do not give them a recorded statement or rush into a fast settlement.
Before you proceed with your insurance claim or sign anything, consult with an attorney. Call a car accident lawyer at Bridgford, Gleason & Artinian to discuss your case and the next steps to take. We will help you with the legal process ahead to ensure the protection of your rights as you move forward.
How Does Shared Fault Affect Car Accident Injury Claims in Orange County, California?
When you get hurt in an Orange County crash, you can generally recover compensation for financial losses (economic awards) and personal suffering and life changes (non-economic awards).
This can allow you to recover compensation for things like:
Medical bills
Lost wages
Disability
Property damage
Disfigurement
Emotional distress
Pain and suffering
Loss of consortium
However, your ability to recover compensation will be directly linked to your contribution to your car accident. Under California's pure comparative negligence system, damages are reduced in direct proportion to fault.
In other words, sharing some of the blame for your car accidents will limit your financial recovery.
If you're 20 percent at fault, your financial award will be reduced by 20 percent. That could mean recovering $80,000 when your case is valued at $100,000.
Our car accident attorneys in Orange County will be ready to fight back against allegations of shared fault. After all, an insurance company won't hesitate to point fingers and shift blame if it means limiting its own liability. We'll defend you at every turn and work to protect your ability to get the money you deserve.
Proudly Serving Orange County and Southern California
Santa Ana | Anaheim | Irvine | Huntington Beach | Garden Grove | Orange | Fullerton | Costa Mesa | Mission Viejo | Newport Beach | Laguna Niguel | San Clemente | Lake Forest | Buena Park | Tustin | Westminster | Yorba Linda | Aliso Viejo | Rancho Santa Margarita | Fountain Valley | Cypress | La Habra | Brea | Seal Beach | Laguna Beach | Dana Point | Placentia | San Juan Capistrano | Stanton | Laguna Hills
Top-Rated Orange County Car Accident Lawyers Ready to Fight For You
Whether you've suffered broken bones, a traumatic brain injury, damage to your spinal cord, other catastrophic injuries, or the wrongful death of a family member, you'll only have a limited time to file a car accident injury claim in Orange County, CA.
The statute of limitations is just two years. Once time runs out, you lose the opportunity to demand accountability from a negligent motorist or insurance company.
Protect your rights – and set yourself up for a financial victory – by calling Bridgford, Gleason & Artinian for help immediately after your car accident.
Our experienced Orange County car accident lawyers are ready to help you stand up, assert your rights, and demand the compensation you deserve.
We offer a free consultation, so give us a call or reach out to us online to speak with a member of our respected legal team today.
---
Client Testimonial: 5/5
★ ★ ★ ★ ★
"Allan Bridgford was amazing to work with and highly responsive to our needs and questions. He went out of his way to understand our case and work through the details diligently and with a great deal of expertise and concern." – Lyn Christensen
For more client testimonials, click here.