Orange County Motorcycle Accident Attorney
Are you struggling with painful physical injuries because you were recently involved in a motorcycle accident in Orange County, California? Don't hesitate to reach out to the award-winning litigators at Bridgford, Gleason & Artinian. You may have the right to recover compensation for your injuries, and our experienced Orange County motorcycle accident lawyers are ready to help you get the money you deserve.
Since 1990, Bridgford, Gleason & Artinian has provided top-tier legal representation to injured motorcyclists and devastated families in Orange County and throughout the state of California. Collectively, our award-winning California trial attorneys have 75+ years of experience and have won billions in life-changing financial awards.
Give yourself the edge you need to win your case and get the best possible results. Call our Orange County law office in Newport Beach, CA to set up a free initial case evaluation now.
Why Choose Our Orange County Motorcycle Attorneys?
We have a long track record of success. In the 30+ years since its foundation, our law firm has

collected more than $1 billion

in settlements, jury verdicts and insurance benefits for clients.

Our courtroom and litigation experience will be an advantage to you during insurance negotiations. Our history shows that we are willing to go to trial to achieve outstanding results.
Our motorcycle accident lawyers operate on a contingency fee basis. You will only owe us attorney's fees if your lawyer secures compensation for your case.
Why Hire an Attorney After a Motorcycle Accident in Orange County?
Injured motorcyclists are at a disadvantage during accident claims. Auto insurance companies have stigmas and biases against motorcyclists. Riders are often viewed as recklessly assuming the risk of serious injuries in accidents. By law, however, you are entitled to the same insurance benefits and respect as other motorists in California.
Do not let an insurance company take advantage of you. Hire an experienced motorcycle accident attorney in Orange County to represent you during settlement negotiations. An attorney can investigate your crash, determine fault and handle an insurance claims adjuster for you. Your lawyer can use aggressive legal tactics to negotiate for maximum compensation.
You can trust a personal injury lawyer to have your best interests in mind. Your lawyer will work for you, not an insurance company or third party. While you rest and focus on healing from your motorcycle accident injuries, your lawyer will fight for justice, accountability and fair financial compensation – even if this means taking your case to trial.
What Causes Most Orange County Motorcycle Accidents?
More than 60,000 motorcycles are registered in Orange County, CA. Riders from all over the state – and country – venture into the area every day to enjoy the breathtaking sights and scenery. Unfortunately, drivers of passenger vehicles often fail to prioritize the safety of motorcyclists while sharing the road.
So, it's no surprise that motorcycle accidents are an all-too-common occurrence in Orange County. According to the most recent crash stats, 594 motorcycle accidents were reported in Orange County in 2022. That's an accident every 1.6 days. These collisions injured 632 people and killed another 25.
While these motorcycle accidents can happen for just about any reason, some of the common causes include:
Drunk driving
Distracted driving
Speeding
Unsafe lane changes
Sudden stops
Tailgating
Lack of experience
Vehicle defects
Road defects
At Bridgford, Gleason & Artinian, we'll dig deep to uncover the specific reason(s) why your motorcycle accident happened and how it could have been avoided. Once the cause is clear, our Orange County personal injury attorneys will work to recover compensation from all liable parties.
Negligence in a Motorcycle Accident Case
California is a fault-based auto accident state. This means that after a motorcycle accident, the party financially responsible or liable for the crash will be the one at fault for causing the collision. The victim or victim's attorney must prove that someone else was negligent and that this person caused the motorcycle accident to be eligible for coverage from that person's insurer. 
Negligence in personal injury law is the failure to use a reasonable degree of care based on the circumstances. Negligence has four elements: 
Duty of care

Breach of duty

Causation

Damages
All motorists in California have a duty to exercise ordinary care behind the wheel, such as by paying attention to the road and obeying traffic laws. Any violation of this duty of care that causes a motorcycle accident can be used as evidence against the driver.
How Do You Prove Negligence?
The burden of proof in a motorcycle accident case is a preponderance of the evidence, also known as the "more likely than not standard." The injured motorcyclist must prove that the other party is more likely than not responsible for the crash using clear and convincing evidence.
An Orange County motorcycle accident attorney can help you gather evidence to support your injury claim, such as:
A police report

Eyewitness statements

Cell phone records

Video footage 

Photographs

Medical records

Testimony from experts

Accident reconstruction
Your lawyer can present this evidence in a compelling way to an insurance company, judge or jury to establish a driver's fault for your motorcycle accident.
What Is the Comparative Negligence Defense?
A common defense strategy used by insurance companies is the comparative negligence argument. Comparative negligence in California is a rule that allows a defendant to reduce his or her degree of liability in an accident case by assigning a percentage of the fault to the victim.
If a crash victim is allocated a percentage of fault for a motorcycle accident, his or her compensatory award will be reduced by an equivalent amount. If you are assigned 15 percent of fault, for example, your settlement or judgment award would be reduced by a matching 15 percent. 
California is a pure comparative negligence state, meaning a victim can be found any degree of fault – up to 99 percent – and still be eligible for partial compensation. An attorney can help you combat the comparative negligence defense to protect your financial recovery.
What's My Orange County Motorcycle Accident Case Worth?
Following a motorcycle crash in Orange County, injured riders can generally recover compensation for related financial losses (economic awards) and pain and suffering (non-economic awards).
Our motorcycle accident attorneys in Orange County can help you seek damages for:
Medical bills
Lost wages
Reduced earning capacity
Disability
Property damage
Emotional distress
Disfigurement
Loss of consortium
Funeral expenses if a motorcycle accident causes the wrongful death of a family member
How much can you expect to recover when you file a motorcycle injury claim? In truth, there's no set value or settlement. Instead, the specific facts and circumstances of your case will dictate what your case is worth.
Some important factors include the type and extent of your injuries, changes in your earning capacity, your age, and how your life has changed.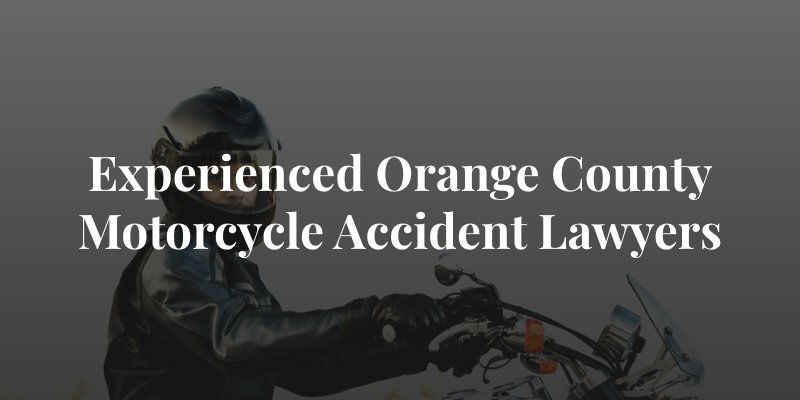 What to Do After a Motorcycle Accident in Orange County
Getting into a motorcycle accident is a frightening and often overwhelming experience. You may suffer significant injuries that require immediate medical attention – making it difficult to focus on steps that you should be taking to protect your rights. 
If possible, here is what you should do after a motorcycle crash:
Get to a safe place (out of the way of traffic) but leave your motorcycle where it is.

Check for injuries. Remain calm and check yourself and your passengers for injuries.

Call 911 immediately. Always report a motorcycle crash, even if it appears minor.

Get medical care for your injuries without delay by requesting paramedics to the scene.

Exchange names, contact information and insurance information with the driver.

Do not admit fault for the motorcycle wreck or apologize to the driver.

Take photos of the crash site, your wrecked motorcycle and any other important details.

Call your insurance company to report your accident as soon as possible.

Do not give the other driver's insurance company a recorded statement.

Before proceeding with an insurance claim, contact an experienced motorcycle accident lawyer.
If you cannot complete all of these steps after a motorcycle accident in Orange County, don't worry. Contact the attorneys at Bridgford, Gleason & Artinian immediately after your crash and we will step in to help protect your rights. From investigating the crash and gathering evidence to negotiating a settlement, we can take care of many important tasks on your behalf.
What Is the Statute of Limitations?
In California, a law known as the statute of limitations imposes a strict deadline on your right to file a personal injury claim after a motorcycle accident. The statute of limitations is two years from the date of the collision or the discovery of your injuries, under California Code of Civil Procedure Section 335.1. 
Due to this law, you'll have just two years to file a lawsuit and will miss the opportunity to recover compensation if you allow the statute of limitations to expire. This is why it is important to contact an Orange County motorcycle accident attorney as soon as possible.
Call Our Experienced Orange County Motorcycle Accident Lawyers For Help Today
Don't hesitate to call the Orange County personal injury lawyers at Bridgford, Gleason & Artinian after a motorcycle crash.
Our experienced Orange County motorcycle accident attorneys can help you assert your legal rights, demand accountability, and get the compensation you deserve.
We have over 75 years of courtroom and litigation experience and a proven ability to win tough motorcycle accident cases like yours. Call our law office in Newport Beach, CA to arrange a time for a free consultation today.