Orange County Personal Injury Attorney
Have you been injured in an accident in Orange County, CA? Don't hesitate to reach out to the award-winning legal team at Bridgford, Gleason & Artinian for help. You may be entitled to compensation for your medical treatment, loss of income, disability, and emotional distress. Our experienced Orange County personal injury lawyers can help you fight to maximize your financial recovery.
Since 1990, Bridgford, Gleason & Artinian has been a leader in personal injury litigation in Orange County. We're nationally-recognized California trial attorneys with a proven ability to take on tough cases and win big for our clients. We've recovered over $1 Billion in settlements and verdicts for clients in cases involving car accidents, catastrophic injury, product liability, mass torts, medical negligence, wrongful death, and other matters of personal injury.
Benefit from a team of top-rated litigators with 75+ years of experience. Call our Orange County, California law office in Newport Beach to set up a free consultation now. We're available to help 24 hours a day.
Orange County Personal Injury FAQs and Resources
Why Should I Hire Bridgford, Gleason & Artinian After an Accident in Orange County, CA?
You have one opportunity to recover compensation after an unexpected accident in Orange County. You need to make the most of it. You can do that by hiring an experienced Orange County personal injury attorney near you to represent you.
The attorney you hire can have a huge impact on the outcome of your case. Choosing the right personal injury attorney could be the difference between recovering a lowball settlement or winning a life-changing jury award at trial.
Here's why you shouldn't hesitate to call Bridgford, Gleason & Artinian for help with your personal injury claim or lawsuit:
Collectively, our law firm partners have over 75 years of courtroom and litigation experience
We've helped clients win billions in compensation – including multiple million and multi-million dollar awards
Our attorneys are accomplished and respected litigators who have successfully handled thousands of mediations, arbitrations, and jury trials
We've received some of the highest honors and awards in the legal industry, including Top 100 Trial Lawyers, America's Most Honored Lawyers, and Best Lawyers
US News & World Report named us one of the Best Law Firms in 2023
When you trust us with your personal injury case, you set yourself up for the financial victory you need and deserve. We have the resources, experience, and in-depth knowledge of California personal injury law that's needed to secure top results.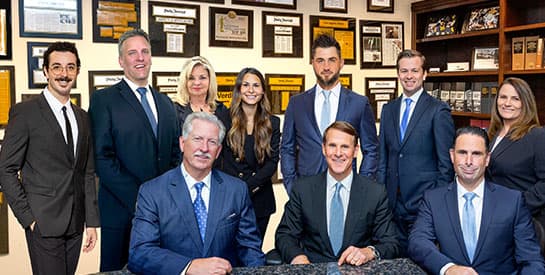 Relevant Case Results
$13.5 Billion | California Fire Victim Settlement
$800 Million | Las Vegas Shooting Settlement
$57 Million | Wrongful Death Settlement
$5 Million | Personal Injury Settlement
$2.5 Million | Wrongful Death Settlement
View more case results and settlements here.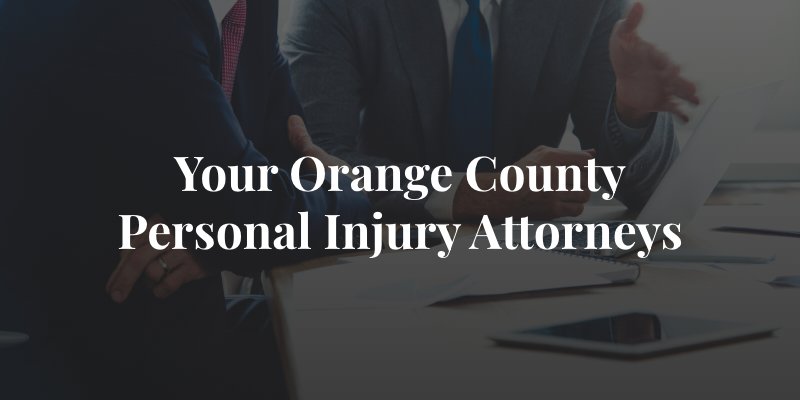 Insurance companies don't want you to call us for help after your accident. They know the odds of winning shift in your favor once we're on the case. Call our Orange County law office to set up a free, no-obligation case assessment to learn more about our legal team today.
What an Experienced Orange County Personal Injury Lawyer Can Do for You
You are already dealing with enough stress and uncertainty after suffering an injury in an accident in Orange County. You should not also have to take on the personal injury claims process alone. An attorney can help you in many ways throughout a case. You can trust your lawyer to guide you through the recovery process while ensuring you have everything you need to rebuild your life during this difficult time.  
An experienced Orange County personal injury lawyer can provide many benefits, such as:
Personalized legal advice and counsel that you can trust.

Comprehensive accident and injury investigation. 

Evidence preservation and collection, including conducting witness interviews.

Claim filing procedures done before California's deadline passes.

Aggressive settlement negotiations with an insurance company.

The hiring of highly qualified experts to testify during your case.

Fierce litigation during an Orange County court trial, if necessary.
A law firm will provide you with the resources, personnel and representation necessary to ensure that you are treated fairly by an insurance company during your personal injury claim and obtain full financial compensation for your losses. Your lawyer will take over legal processes to help you avoid common mistakes, such as missing an important deadline. You can relax and focus on healing from your injuries while your attorney takes care of the rest.
Our Orange County Personal Injury Practice Areas
At Bridgford, Gleason & Artinian, we are exclusively committed to representing accident and injury victims in Orange County and throughout Southern California.
We handle all types of personal injury cases, including:
Bicycle accidents
Pedestrian accidents
Boating accidents
Workplace accidents
Train accidents
Fires and explosions
Premises liability
Slip and fall accidents
Product liability
Traumatic brain injury
Spinal cord injury
Nursing home abuse
Medical malpractice
Birth injury
Our Orange County personal injury attorneys have extensive experience representing clients in individual personal injury disputes, mass torts, and matters of class action. Don't hesitate to reach out to us to discover the considerable benefits of working with our award-winning litigators.
We'll Fight to Maximize Your Orange County Personal Injury Reward
When you get hurt because of another person's negligent or intentionally harmful actions, you can generally recover compensatory damages in a related legal claim.
Compensatory damages include money for your financial losses (known as economic awards) and your related suffering and trauma (known as non-economic awards).
Our attorneys can help you seek maximum damages for:
Medical bills
Lost wages
Rehabilitation
Property damages
Pain and suffering
Emotional distress
Disfigurement
Loss of consortium
Funeral expenses
There's no standard settlement or value of a personal injury claim in Orange County, California. Ultimately, a few different factors will influence the amount of money you might be able to receive will depend on:
The type of injury you've suffered and how serious it is
Whether you're able to continue working after your accident
Changes in your earning capacity
The extent of your psychological and emotional distress
Shared fault and responsibility for the accident
Available insurance benefits and policy limits
At Bridgford, Gleason & Artinian, we've helped clients recover billions of dollars in private settlements and jury verdicts, including several individual million and multi-million dollar awards. Trust us to help you achieve the best possible outcome in your Orange County personal injury case, too.
Who Is Liable for Your Personal Injury in Orange County?
It can be difficult to determine and prove liability for your personal injury accident in Orange County. Liability, or legal and financial responsibility, in a personal injury case can go to one or more parties. The individual or entity most at fault for causing your accident and injury can be held responsible for paying for your related medical bills, lost wages and more. Our attorneys can carefully evaluate your case to determine who is liable. Possibilities include:
A motor vehicle driver

A truck driver or delivery driver

A trucking company

An employer

A property owner

A dog or pet owner

A product manufacturer or distributor

A doctor or health care provider

The government
Do not make the mistake of assuming you can only hold one party accountable for your injury in Orange County. There are many scenarios where you can file a lawsuit naming multiple parties. After a car accident, for example, you may be able to hold both the other driver and the manufacturer of a defective seat belt liable. Exploring all potentially liable parties can help you maximize your financial recovery by providing greater insurance coverage.
Proving Negligence in an Orange County Personal Injury Case
Most personal injury cases filed in Orange County are based on the legal doctrine of negligence. Someone is negligent if he or she fails to use an ordinary or acceptable amount of care. If one person's negligence injures another person, the negligent party can be held liable for the victim's losses. However, the victim has the burden of proof to establish negligence. Negligence must be proven using a preponderance of the evidence, meaning with at least a 51 percent certainty.
Negligence consists of four elements:
Duty of care:

a legal obligation that requires adherence to a duty of reasonable care to avoid careless acts or omissions that harm others.

Breach of duty: a violation of the duty of care, meaning something that a reasonable and prudent party would not have done in the same or similar circumstances.
Causation: a direct link between the defendant's breach of duty and the plaintiff's injury; the injury most likely would not have occurred but for the defendant's negligence.
Damages: losses sustained by the plaintiff because of the accident or injury, such as medical bills, physical injuries, pain and suffering, and lost wages.
Every person has a duty to act toward others and the public with the caution, prudence and care that a reasonable person in the same situation would use. Any act or omission that falls short of this duty of care and causes an accident could be grounds for a personal injury claim. Certain parties have higher standards of care, such as the standards that must be used by doctors when treating patients. Our attorneys can help you understand the duties of care in your case. 
What Evidence Can Be Used During a Personal Injury Claim?
Meeting the burden of proof in a personal injury claim requires evidence. One of the tasks that your lawyer can perform is to investigate and search for all available evidence. While no two cases are exactly alike, the evidence that may be preserved and presented to establish negligence during your personal injury case could include:
A police report

Photographs and videos

Medical records and proof of injuries

Physical evidence from the scene

Eyewitness statements

Employment records

Cellphone records

A truck's black box

Expert testimony
These types of evidence may be used to prove that someone is to blame for your accident as well as demonstrate the losses that you suffered due to your injury. Do your best to collect documents, records and other forms of evidence after getting injured in an accident in Orange County. This can help strengthen your case.
Tips for Dealing With an Insurance Company
When you file an insurance claim for a personal injury, be careful what you say to the insurance claims adjuster who is assigned to your case. Keep in mind throughout the claims process that the insurance carrier does not want what is best for you. The insurer's goal is to save as much money as possible on your payout. Knowing this, take steps to protect your rights:
Don't delay in seeking medical care, as this could hurt your eligibility for coverage.

Read the insurance policy carefully so you understand your coverage and rights.

File your insurance claim as soon as possible to avoid missing a deadline.

Avoid posting on social media while your personal injury case is pending.

Write down whom you speak with at the insurance company and take notes after calls.

Keep your answers to questions short and concise; do not guess or speculate.

Never admit fault for an accident during conversations with a claims adjuster.

Politely refuse to give a recorded statement to the adjuster.

Do not rush to accept the very first settlement offered.
First settlement offers are often intentionally set low. The insurance company hopes the client does not know the true value of the claim, is anxious to resolve the claim as quickly as possible, or does not realize he or she can negotiate. Protect yourself by bringing your case to a personal injury lawyer in Orange County before accepting a settlement or signing anything. Once you accept, you cannot reopen your case.
Do All Personal Injury Cases Have to Go to Trial?
No. The majority of personal injury claims that are filed in California are resolved at the settlement stage, meaning with an out-of-court agreement between the insurance company and claimant to resolve the legal dispute for an agreed-upon amount of money. Settlements are preferable to trials, as they are faster and cost less money. However, some cases end up in court. 
Your lawyer may have to take your case to trial in Orange County if the insurance company has wrongfully rejected your claim or will not offer a reasonable settlement for the extent of your losses. A personal injury trial could result in greater compensation than a settlement in these situations, especially if your injuries are catastrophic. Consult with an attorney for information about the likelihood of your specific case going to trial.
How Much Does a Personal Injury Attorney in Orange County Cost?
A traumatic accident in Orange County could leave you with painful and debilitating injuries that make it impossible to return to work and cost thousands of dollars in medical care. At Bridgford, Gleason & Artinian, we understand what our clients are going through. We make our attorney's fees affordable by operating on a contingency fee basis.
Contingency fees mean you will pay $0 upfront and $0 if we do not win your personal injury case. If we do not secure financial compensation for your losses, you won't pay a dime in attorney's fees. If your case does result in a settlement or judgment award, our fee will be charged as a percentage of the overall amount collected. With this payment arrangement, you never have to pay us out of pocket or accept any financial risks associated with a claim.
You Have a Limited Time to File a Personal Injury Lawsuit in Orange County, California
Once you've been injured or lost a close family member in an Orange County accident, you'll have a short window in which you can file a legal claim for damages. There is a legal deadline known as a statute of limitations on all personal injury actions in California. 
Under California state law, the statute of limitations for most personal injury claims is two years.
Once the statute of limitations runs out, you lose the ability to assert your legal rights, bring legal action, and demand the compensation you deserve.
You have even less time to file a claim if you wish to name a government agency as the defendant. These cases come with a filing deadline of just six months under the California Tort Claims Act. Contact an attorney immediately to avoid missing your deadline.
Proudly Serving Orange County and Southern California
Santa Ana | Anaheim | Irvine | Huntington Beach | Garden Grove | Orange | Fullerton | Costa Mesa | Mission Viejo | Newport Beach | Laguna Niguel | San Clemente | Lake Forest | Buena Park | Tustin | Westminster | Yorba Linda | Aliso Viejo | Rancho Santa Margarita | Fountain Valley | Cypress | La Habra | Brea | Seal Beach | Laguna Beach | Dana Point | Placentia | San Juan Capistrano | Stanton | Laguna Hills
Respected Orange County Personal Injury Lawyers Ready to Fight For You
The insurance company won't be on your side. Adjusters and defense attorneys will work hard to find a way to deny your claim or limit your payout. It's important to put an experienced legal advocate in your corner who will have your best interests at heart.
Don't hesitate to call the Orange County personal injury lawyers at Bridgford, Gleason & Artinian for immediate legal assistance. We're experienced and successful California litigators who have dedicated our careers to advocating for injury victims and grieving families across Orange County.
We'll do everything in our power to help you navigate this tough time and get the financial justice you deserve. Our law firm works on contingency, so there's no cost to you unless we win your personal injury case.
Contact our Orange County law office in Newport Beach, CA to set up a free initial case evaluation to get started. A member of our team is always here to help.
---
Client Testimonial: 5/5
★ ★ ★ ★ ★
"The sincerity, professionalism, ethics, and genuine respect for your craft and most important your clients is without equal. We are thrilled with the results of your efforts and our seven-figure verdict is a testament to your focus and determination. Thank you for lifting a giant burden from us and turning what we thought was impossible into a reality."  – Jim and Marie Walsh
For more client testimonials, click here.