Orange County Truck Accident Attorney
Did you recently suffer catastrophic injuries or lose a close family member in a truck accident in Orange County, California? Often, negligent truck drivers or trucking companies can be held legally responsible for costs related to medical bills, lost wages, and emotional distress. The experienced Orange County truck accident lawyers at Bridgford, Gleason & Artinian can help you fight to maximize your financial recovery.
Since 1990, our award-winning California trial attorneys have been fierce advocates for Orange County crash victims and devastated families. We take on powerful insurers and trucking companies and help our clients win life-altering financial awards. Our results are a testament to our hard work and dedication. We've won billions in settlements and jury awards, including several individual million-dollar results.
Benefit from a top-rated team of litigators with 75+ years of experience and a proven ability to win tough truck accident cases like yours. Call our Orange County, CA law office in Newport Beach to set up a free consultation now.
Orange County Truck Accident Resources and FAQs
Why Choose Our Orange County Truck Accident Attorney?
We have recovered over $1 billion in settlements and verdicts. We are not afraid to go up against powerful adversaries such as truck companies to aggressively negotiate on behalf of our clients.

Our lawyers have years of experience handling personal injury and truck accident cases throughout California. We can handle even the most complicated claim.
Bridgford, Gleason & Artinian operates on a contingency fee basis. Your attorney will charge $0 in fees unless he or she wins your truck accident case.
How Can a Truck Accident Attorney Help You?
A truck accident lawyer will have the knowledge and legal experience to guide you through your claim while protecting your rights and interests. Unlike an insurance corporation, your lawyer will want you to succeed and recover as much financial compensation as possible. You can trust your attorney to fight for a fair and full settlement for you when dealing with an insurance company, as well as help you with other aspects of your injury claim along the way.
Your attorney can make sure you are getting the medical care that you need, for example, and fill out confusing claims paperwork for you. A law firm will have connections to experts, crash reconstruction teams and the courts to strengthen your case. Hiring an attorney will make the claims process as efficient and effective as possible – eliminating wasted time and money. You can have greater peace of mind to concentrate on healing while your lawyer resolves your truck accident case with your best interests in mind.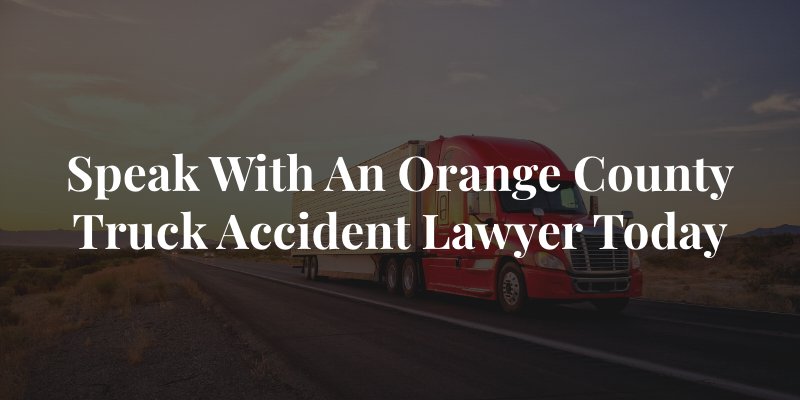 Common Causes of Orange County, CA Truck Accidents
Every year, hundreds of big rigs, tractor-trailers, semis, and other large trucks are involved in motor vehicle accidents in Orange County, California. According to the most recent crash stats, there were 392 truck accidents reported in Orange County in 2022. These truck accidents injured 513 people and killed another 15.
Trucks – and the trucking industry – are so heavily regulated by the Federal Motor Carrier Safety Administration (FMCSA) and California state law, so why do these accidents happen so often?
Unfortunately, most truck accidents are a matter of negligence. Most often, it's the truck driver who makes a mistake and causes a collision.
Some of the leading causes of Orange County truck accidents include:
Distracted driving
Fatigued driving
Drug and alcohol use
Speeding
Wide turns
Unsafe passing
Braking errors
Following too closely
Improper cargo load
Truck accidents can also occur when trucks are defective, trucking companies hire unqualified drivers, or road conditions are unsafe.
What Makes Truck Accident Cases Unique?
There are many reasons why truck accident cases are unique compared to traditional car accident cases. First, these collisions often involve more catastrophic injuries, such as losses of limbs or wrongful death. This makes it even more important to hire an attorney to represent you during insurance claim negotiations, as an insurer may try to devalue your injuries or ignore your future medical needs. Your lawyer can go to trial to secure fair compensation for a severe injury, if necessary.
Powerful Adversaries
The second unique element is the adversary you might face. The defendant in a truck accident claim may be a trucking corporation or cargo company rather than another driver. These are powerful adversaries with extensive legal resources to put toward fighting your claim. Trucking companies are often held vicariously liable for the actions of their drivers. They may also be liable for their own acts of negligence, such as poor truck driving hiring practices or a lack of fleet maintenance.
Evidence Available
Another consideration is that truck accident cases often have unique types of evidence. For example, the truck's black box stores a lot of information about the truck driver and the truck's performance. Accessing the data in the black box could help a victim prove that the driver was speeding, braking incorrectly or violating hours-of-service regulations, or that the truck needed maintenance leading up to the accident. 
Federal Laws
Hours-of-service is just one of many federal regulations that may apply to your truck accident case. An attorney can help you understand the federal laws that common carriers must obey, including cargo securement requirements, weight and height restrictions, and truck maintenance and inspection minimums. This is another element that could make your trucking accident more challenging to handle without help from an attorney. 
Common Truck Accident Injuries
It is important to hire an attorney if you or a loved one suffered a serious injury in a truck accident in Orange County. Due to the size and weight of a big rig, these collisions are unfortunately often serious for the occupants of the smaller car. A lawyer can help you fight for the compensation that you deserve for a life-changing or catastrophic injury, including payment for your future foreseeable losses. 
Common injuries suffered in truck accidents include:
Bone fractures

Head trauma

Traumatic brain injuries

Cuts, scrapes and deeper lacerations

Severe burn injuries

Scarring and disfigurement

Soft-tissue injuries

Crush injuries

Spinal cord injuries

Disc herniation

Neck injuries or whiplash

Amputations

Organ damage

Wrongful death
These injuries can lead to significant medical costs, such as months or years of ongoing physical therapy and rehabilitation. They may take the victim out of work for the foreseeable future and cause immense pain and suffering. At Bridgford, Gleason & Artinian, we help clients with all types of injuries from commercial truck accidents in California. We know what you need to rebuild after a life-changing diagnosis.
What Types of Damages Are Available to Orange County Truck Accident Victims?
Damages is the legal term for financial compensation that can be made available to a plaintiff during a personal injury claim. There are two types of compensatory damages: economic and noneconomic. Economic damages are monetary losses, while noneconomic damages are intangible losses, otherwise known as pain and suffering. Following a truck accident, you may be able to recover compensation for your:
Medical bills
Lost income
Disability
Property damage
Loss of consortium
Mental anguish
Disfigurement
Pain and suffering
Other crash-related damages
You may also qualify for punitive damages, which are awarded in some cases to punish a defendant for gross negligence, fraud or malice. Typically, anyone who directly or indirectly contributes to an Orange County truck accident can be liable for your damages, including a negligent truck driver, trucking company, third-party motorist, truck manufacturer, freight broker, or government agency.
Our experienced truck accident attorneys in Orange County will aggressively pursue maximum compensation from anyone who played a role in causing your devastating truck accident injuries.
How Long Do You Have to File a Truck Accident Claim in Orange County?
Whether you've suffered a serious personal injury or the wrongful death of a family member, you'll have just two years to file a truck accident lawsuit in Orange County, California.
This is the statute of limitations, or legal deadline for filing, most personal injury cases in California. There are some exceptions, however, in limited circumstances:
Wrongful death:

in a wrongful death claim, the clock starts ticking on the date that the victim died, not the date of the truck accident. These dates may be different if the victim did not succumb to his or her injuries right away.

Discovery rule: if an injury from a trucking accident is not discovered right away, the victim has two years from the date that he or she discovered (or should have discovered with reasonable diligence) the injury to file a claim.
Injured minor: the statute of limitations for a child injury case is two years from the date that the child turns 18, even if this is longer than two years from the date of the truck accident.
Claim against the government: if your truck accident was caused by a road defect such as a pothole, you may have a case against a government agency. In this situation, you have just six months from the date of the crash to file a written notice with the agency.
Don't let the statute of limitations expire and lose the right to demand the financial accountability you deserve. Call the experienced Orange County truck accident attorneys at Bridgford, Gleason & Artinian for immediate legal assistance. We will help you determine and meet your specific deadline to file a personal injury claim.
Proudly Serving Orange County and Southern California
Santa Ana | Anaheim | Irvine | Huntington Beach | Garden Grove | Orange | Fullerton | Costa Mesa | Mission Viejo | Newport Beach | Laguna Niguel | San Clemente | Lake Forest | Buena Park | Tustin | Westminster | Yorba Linda | Aliso Viejo | Rancho Santa Margarita | Fountain Valley | Cypress | La Habra | Brea | Seal Beach | Laguna Beach | Dana Point | Placentia | San Juan Capistrano | Stanton | Laguna Hills
Contact the Experienced Orange County Truck Accident Lawyers at Bridgford, Gleason & Artinian For Help Today
Put a team with 75+ years of experience that's won billions in life-changing financial awards in your corner. Contact us to work with experienced, dedicated and aggressive attorneys who care about your future. We offer a free consultation and don't get paid unless we win your truck accident case, so contact our Orange County law office in Newport Beach today at (949) 831-6611.
---
Client Testimonial: 5/5
★ ★ ★ ★ ★
"I felt that you were fighting for me, counseling me, supporting me and allowing me to make the best decision based on the information you and the mediator provided throughout the day. There was not one instance where I felt pressure to make a decision. The team was outstanding." – Plaintiff
For more client testimonials, click here.