Orange County Workplace Injury Attorney
You may be entitled to compensation if you've recently suffered an injury while working in Orange County, California. The experienced Orange County workplace injury lawyers at Bridgford, Gleason & Artinian can help you explore your legal options and work toward a meaningful financial recovery.
Since 1990, our personal injury law firm has been a leading advocate for injured workers and families across Orange County. We're award-winning trial attorneys with a proven ability to take on tough cases and win big for our clients. Since our founding, we've recovered over $1 billion in settlements and jury awards.
We can help to make a genuine difference in your life by fighting to get you the compensation you deserve. Call our Orange County, CA law office in Newport Beach at (949) 831-6611 to learn more. Your first consultation is free.
We Handle All Types of Workplace Injury Cases in Orange County, CA
In 2021, 2.6 million American workers suffered nonfatal injuries on the job. Thousands more died as a result of their catastrophic trauma. California tends to rank toward the top when it comes to workplace-related injuries and deaths.
Every year, many Orange County workers are injured as a result of:
Warehouse accidents
Healthcare accidents
Transportation accidents
Commercial fishing accidents
Maritime accidents
Aviation accidents
Restaurant accidents
Industrial accidents
Fall accidents
Workers tend to suffer a wide range of injuries, including:
Crushing injury
Amputation
Nerve damage
Burns
Broken bones
Repetitive motion injury
At Bridgford, Gleason & Artinian, we have 75+ years of experience advocating for injured workers who have sustained serious and debilitating trauma on the job.
How Do I Recover Compensation For a Workplace Injury in Orange County?
Most employees in Orange County, CA are covered by workers' compensation benefits. If you're an employee who gets hurt while performing work-related duties, then you'll generally qualify for benefits to cover the costs of your medical treatment and a portion of your lost wages and disability.
Workers' compensation benefits are available regardless of fault, but you will give up the right to sue your employer.
If you aren't covered by workers' compensation – or if a negligent third party caused your workplace injury – you can pursue compensation through a civil personal injury lawsuit. This can allow you to recover compensation for medical expenses, lost income, disability, out-of-pocket costs, and things like pain and suffering.
Our experienced workplace injury attorneys in Orange County will help you explore your legal options and work to recover maximum compensation through all available channels.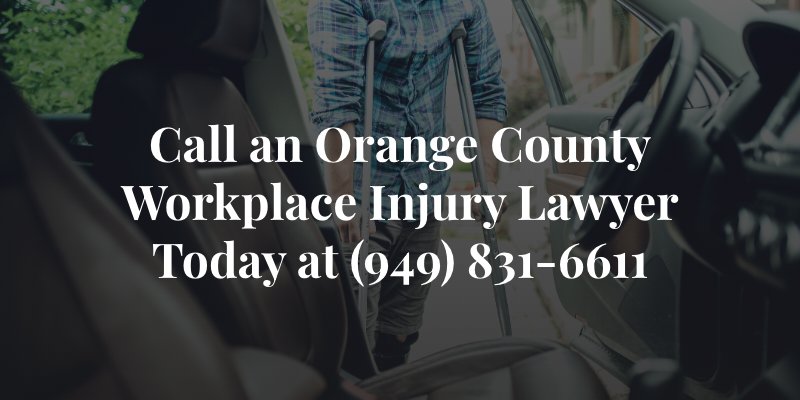 Call Our Trusted Orange County Workplace Injury Lawyers For Help Today
You'll have a limited time to pursue compensation for a work-related injury in Orange County, CA. Workers' compensation claims must be filed within one year, while personal injury lawsuits are subject to a two-year statute of limitations.
Get a jumpstart on your injury claim by contacting Bridgford, Gleason & Artinian today. Our Orange County personal injury attorneys have the experience, resources, and reputation you'll need to make the most of your fight for compensation.
Reach out to our compassionate legal team in Newport Beach, CA today to set up a time to discuss the detail of your case for free.