Orange County Fatal Car Accident Attorney
Are you struggling with the sudden and devastating loss of a family member after a fatal car accident in Orange County, California? Call Bridgford, Gleason & Artinian. You may be entitled to compensation, which can help to offset related financial costs and hold the person responsible for your loved one's death accountable for the harm they've caused. Our experienced Orange County car accident lawyers can help you fight for the financial justice you deserve.
For more than 30 years, our award-winning litigators have been a source of strength and support for grieving families after fatal car accidents in Orange County. We fight to make sure that their stories are heard and that insurance companies and at-fault parties are forced to take accountability for these tragedies.
Putting 75+ years of courtroom and litigation experience behind every case, we've been able to recover over $1 billion in life-changing financial awards.
Let us help you get the compensation you need and deserve. Contact our Orange County law office in Newport Beach, CA to arrange a time for a free, confidential case evaluation now.
Why Choose Our Orange County Fatal Car Accident Attorney
We have successfully represented clients in auto accident cases throughout California for decades. In that time, we have secured over $1 billion in settlements, insurance benefits and jury awards. When results matter, clients trust Bridgford, Gleason & Artinian.

Our legal team uses a client-centered approach to personal injury law. We will communicate with you openly and often about your fatal car accident case, answering any questions that you may have and keeping you updated along the way.
We take all fatal car accident cases and wrongful death claims in Orange County on a contingency fee basis. This means you will pay $0 in attorney's fees until and unless we secure compensation for your case.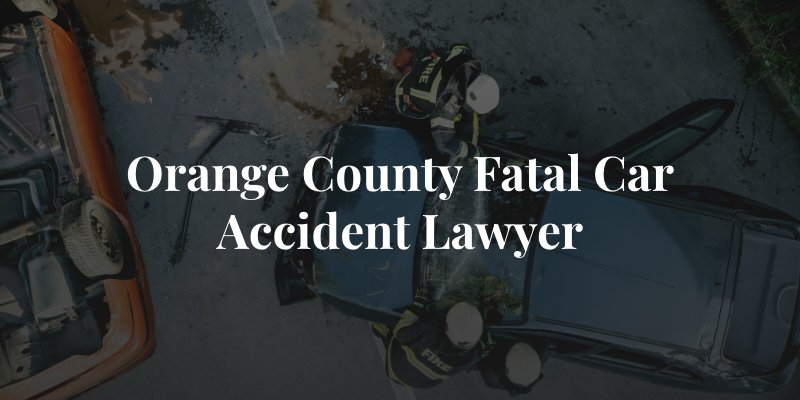 What Can an Orange County Fatal Car Accident Lawyer Do for You?
Hiring an attorney after a loved one dies in a fatal automobile accident can give you greater peace of mind during this difficult and emotional time. You should be able to focus on mourning your family member and trying to prepare for the future, without the stress of legal action. Hiring a lawyer allows you to focus on what is most important.
You can count on your attorney to stand up to insurance claims adjusters who might otherwise try to take advantage of your family. Insurance companies protect their profits over their clients; a wrongful death lawyer will protect your family and give your deceased loved one a voice in the civil justice system.
Your Orange County wrongful death attorney can investigate the fatal car accident, determine its cause, identify the defendant(s), gather evidence, hire experts, take over settlement negotiations and bring your case to trial in Orange County, if necessary. A lawyer will fight to hold someone accountable for the fatal crash while you try to heal and move forward.
How Common Are Fatal Car Accidents in Orange County, CA?
Every year, hundreds of people lose their lives in fatal Orange County motor vehicle accidents. In 2021, 215 fatal collisions were reported across Orange County. At least 221 people lost their lives in these deadly wrecks.
This represented a sharp rise in the number of fatal car accidents in the area.
In 2019, just 164 Orange County collisions were fatal, resulting in 180 deaths. The year prior, Orange County saw 192 deadly crashes, resulting in 203 fatalities.
Common Causes of Fatal Car Accidents in Orange County
Fatal car, truck, motorcycle, bicycle and pedestrian accidents in Orange County are almost always preventable. Investigations into deadly collisions often find that they are caused by human error and driver negligence. Examples include:
Distracted motorists/texting and driving

Driving while impaired

Drowsy driving

Speeding

Reckless driving

Aggressive driving or road rage

Red-light running

Failing to yield

Following too closely (tailgating)

Other traffic law violations
Negligence is the failure of an individual to act with reasonable care. All motor vehicle drivers in California have a legal obligation to drive safely and in accordance with roadway rules. Any breach or violation of this duty of care can result in liability for a fatal car accident.
Is California a Fault or No-Fault State?
California is a fault state, which means surviving family members can bring a wrongful death claim against the person or party that is at fault for causing a fatal car accident. In a no-fault state, on the other hand, crash victims seek coverage from their own car insurance companies, regardless of fault. However, there are exceptions for catastrophic injury and wrongful death cases, in most states. 
According to California's fault-based law, the individual or entity most at fault for your loved one's fatal collision will be named as the defendant in your case. This could be the other driver, the driver's employer, a trucking company, a vehicle manufacturer for a defective part or the government for an unsafe roadway. 
Some wrongful death claims name multiple defendants. The attorneys at Bridgford, Gleason & Artinian can help you identify the correct defendant(s) in your fatal car accident case.
Criminal vs. Civil Cases After Fatal Car Accidents
Some fatal car accidents in California result in criminal charges being brought against the at-fault party. If a drunk driver causes fatalities in a deadly collision, for example, he or she could face manslaughter charges. Criminal charges aim to punish an individual for breaking the law by imposing a sentence, such as jail time. 
While a criminal conviction can provide some measure of justice for surviving family members – and financial restitution, in some cases – a civil claim can offer more complete justice. The goal of a civil claim is to make a victim or victim's family whole again with financial compensation for economic and noneconomic damages.
It is possible to file a civil claim for a deadly car accident at the same time as an ongoing criminal investigation against a defendant in California. The deadline to file a civil claim is generally tolled (paused) until the completion of a criminal case against the defendant.
What Types of Damages Can I Get If a Family Member is Killed in a Fatal Crash in Orange County?
The right to take legal action isn't lost just because an Orange County car accident is deadly. When a victim is killed, the right to pursue compensation shifts to surviving family members.
Through a wrongful death action, surviving spouses, children, parents, and/or other financial dependents can potentially recover compensation for:
Burial and funeral expenses
Lost income, benefits, and financial support
The value of household services
Medical bills paid prior to the victim's death after the fatal crash
The victim's pain and suffering
Lost support and companionship
Our experienced Orange County personal injury lawyers will work closely with experts and dig deep as we work to understand the impact the fatal car accident has had (and will continue to have) on your life.
Wrongful Death Claim vs. Survival Action in Orange County
 A wrongful death claim might not be the only type of civil action available to you and your family after losing a loved one in a fatal car accident in Orange County. In California, another option could be a survival action.
California Code of Civil Procedure 377.30 states that a cause of action can survive the death of a person entitled to commence an action after that individual is deceased. In this case, the action can be brought by the decedent's personal representative or successor in interest.
The purpose of a survival action is to seek compensation for the decedent's losses, while a wrongful death claim focuses on losses suffered by surviving family members. Both types of civil cases may be available to your family after a fatal auto accident. An attorney can help you choose the legal route that is right for you.
Who Can File a Claim After a Fatal Car Accident in California?
Only certain parties have the legal right to file a wrongful death claim after a fatal car accident in California. State law gives the right to bring a wrongful death action to the following parties, in this order:
The deceased person's surviving spouse.

The deceased person's surviving child or children.
Minors who were living in the household of the deceased for at least the prior six months and who were dependent on the deceased for at least 50 percent of their financial support.
The deceased person's parents, if the decedent was a minor or the parents were financially dependent on the decedent.
Other heirs and beneficiaries – anyone entitled to inherit from the deceased person according to California's laws of intestate succession. This can include siblings and grandparents.
In the event that no surviving relatives are available, any of the victim's next of kin could file a wrongful death lawsuit after a fatal car accident in Orange County. It is also possible for a personal representative of the decedent's estate to file on behalf of all parties in interest.
How Long Do I Have to File a Wrongful Death Lawsuit in California?
The statute of limitations for wrongful death claims in California is two years. This gives you two years from the date of the fatal Orange County car accident or the date of the victim's death – whichever is later – to file a legal claim for damages.
Call our Trusted Orange County Car Accident Lawyers For Help After a Fatal Wreck
Every year, hundreds of families are grief-stricken because of fatal car accidents across Orange County. If you've recently suffered the death of a close family member in a deadly crash, don't hesitate to call Bridgford, Gleason & Artinian for help.
Our experienced car accident attorneys in Orange County have 75+ years of experience and a proven ability to help families like yours recover substantial monetary awards.
Your first consultation with our compassionate legal team is free, so connect with our Newport Beach law office to set up a time to discuss the details of your fatal car accident case today.