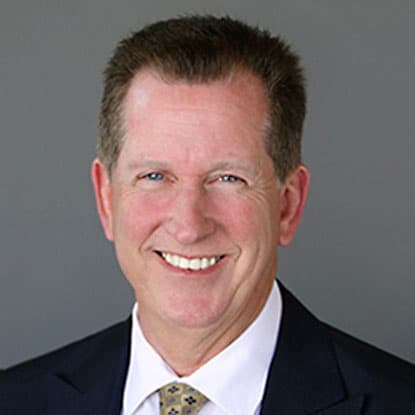 John S. Gleason
Partner
Mr. Gleason has extensive experience as a trial and appellate lawyer, including successfully arguing the landmark appellate decision Furla v. Jon Douglas Co. (1998), 65 Cal. App.4th 1069, which established the standard of care and duties owed by real estate brokers to purchasers in residential real estate transactions.
He also has handled a variety of complex litigation, including land subsidence and insurance coverage litigation for Lennar Homes; lender litigation involving the FDIC, Far East Bank, Canadian Imperial Bank of Commerce and the Bank of Irvine; LLC litigation involving a Las Vegas hotel and a condominium project; litigation between Donald Callender and Ramada, Inc. involving the sale of Marie Callender's restaurants; broker and contractor licensing and compensation litigation for Ahmanson Developments, Inc., J.C.C. Homes and AmeriQuest Technologies; antitrust litigation between King Bearing, Inc. and Orange Bearing, Inc.; inverse condemnation litigation involving John Wayne Airport; securities litigation involving United States Securities Corporation and Sierra Home Services; fraud and breach of contract actions involving various real estate transactions; trust and estate litigation; partnership disputes; and several large construction defect actions involving commercial and residential projects throughout California.
Mr. Gleason started his career in real estate law at Pircher, Nichols & Meeks in Century City. He practiced in the areas of condemnation, redevelopment and land use law, trying several cases on behalf of cities and agencies throughout San Diego County from 1985 to 1988. He then practiced in the business litigation department of Kindel & Anderson at its Newport Beach office. Mr. Gleason started practicing law with Richard Bridgford in 1991. Before he attended law school, he was a stockbroker and financial advisor.