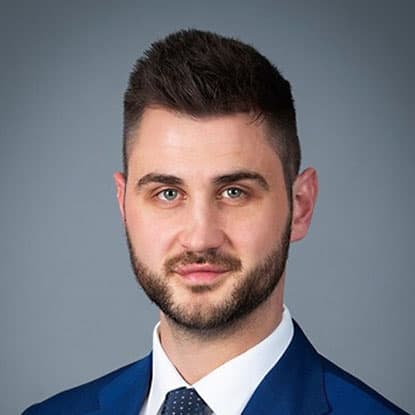 Allan L. Bridgford III
Attorney
Allan L. Bridgford IIl is helping to lead the firm's mass torts matters related to utility-caused Wildfires throughout Northern and Southern California.
This includes the 2017 North Bay Fires (PG&E), the 2018 Camp Fire (PG&E), the 2017 Sylmar Creek Fire, the 2017 Thomas Fire (Southern California Edison), 2018 Woolsey Fire (Southern California Edison), and the 2022 Laguna Niguel Coastal Fire (Southern California Edison). In addition, Mr. Bridgford practices in all areas of civil litigation, including catastrophic personal injury, employment law, premises liability, and other consumer-oriented matters where individuals have been wronged. Mr. Bridgford has experience handling the various aspects of the litigation process for clients throughout the course of representation and has done so on behalf of thousands of clients resulting in hundreds of millions of dollars in resolutions.
Prior to joining Bridgford, Gleason & Artinian, Mr. Bridgford led a mass tort department for a top Los Angeles law firm. Prior to that, Mr. Bridgford worked for a top NFL Sports and Marketing Agency, Athletes First, as an extern and then consultant to David Dunn, CEO, regarding all quarterback related evaluations. Additionally, Mr. Bridgford clerked for a top Los Angeles law firm, performing various litigation tasks and specifically managing the mass torts docket for the Northern and Southern California wildfires and the Las Vegas Village mass shooting. He was also part of the lobbying efforts to oppose the proposed inverse condemnation changes under Senate Bill 901, a bill which was created to protect Public-Utility caused Wildfire survivors and leave the legal standard for inverse condemnation in place.
Prior to law school, Mr. Bridgford lettered and played Quarterback for the University of California, Berkeley, and the University of Southern Mississippi. Mr. Bridgford played professionally for the Amsterdam Crusaders, formerly known as the Amsterdam Admirals of NFL Europe, where he led his team to the European Football League Championship and Dutch National Championship.
PROFESSIONAL AFFILIATIONS AND AWARDS
State Bar of California

Consumer Attorneys of California

Super Lawyers, Rising Stars, 2022/2023 – Class Action and Mass Torts
Best Lawyers, Ones to Watch, 2022 – Mass Tort Litigation / Class Actions
Best Lawyers, Ones to Watch, 2022 – Personal Injury Litigation
Best Lawyers, Ones to Watch, 2023 – Labor and Employment
Best Lawyers, Ones to Watch, 2023 – Mass Tort Litigation / Class Actions
Best Lawyers, Ones to Watch, 2023 – Personal Injury Litigation